It is cold outside, the air smells different, the clocks have gone back, and December is around the corner. If you are anything like us you are already planning your festive décor and we feel this is one of the most exciting parts of the countdown to Christmas. We like to grab the opportunity to really enjoy the lead-up to the big day whilst layering our home in festive wonderfulness!
So, where to begin?
We find it best to pick a theme or choose a master colour. Are we feeling a bit of festive glam this year, with golds and leopard prints, or are we wanting to spruce it up with a touch of humour and quirky décor? Perhaps you want to channel your inner Scandi vibes with classic winter whites and rustic woods, or are you keeping it traditional with deep reds, festive greens, and foliage?  
There are so many styles to play with, but with whichever one suits you; Or & Wonder have got you covered!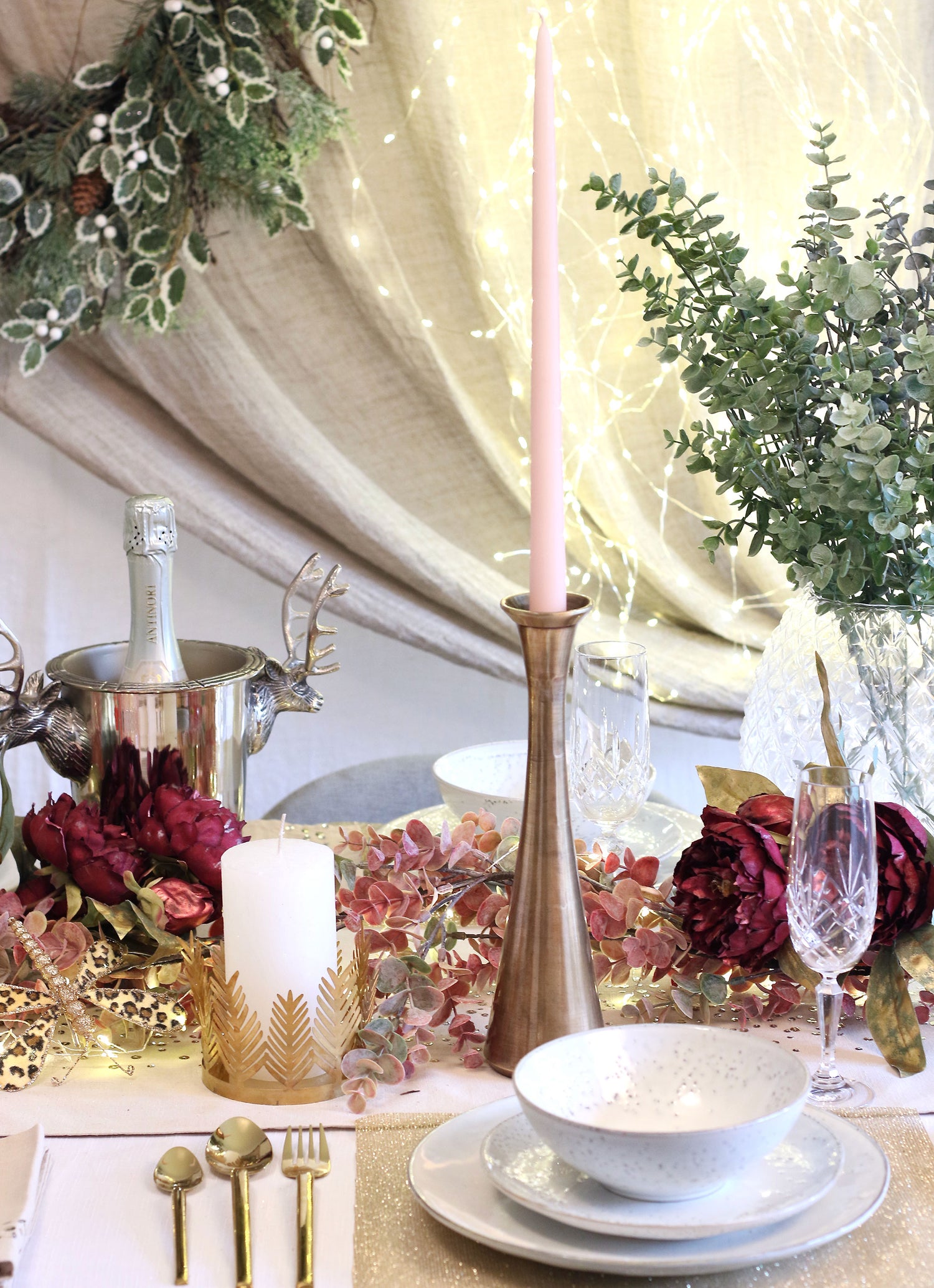 Hostess With the Mostess: Christmas Table Ideas
This is the perfect opportunity to really wow your dinner guests. We feel there really are not any "rules" when it comes to table decorating: good quality festive decor and a colour scheme will be all you need to begin this styling journey.
So, putting the crockery, placemats, and table linen to one side (you can keep these classic and understated), we have a few interesting festive additions that will elevate the style of your Christmas table. For starters (excuse the pun) there must always, always be decorative lights using candles and fairy lights (preferably battery-operated.)
Our different coloured diners are a fabulous way to bring a colour theme together or to add that splash of colour to your table. Tea lights are also a beautiful way to provide a warm atmospheric setting. We'd suggest choosing interesting candleholders to fit with your theme, whether they be a dramatic candelabra centrepiece or a collection of individual holders. They can be quirky, elegant, or simple. To incorporate your fairy lights into your table, we'd suggest weaving them loosely through your candleholders or down the centre of your table. You could even gather them within a glass vase full of festive foliage — THIS will immediately add Christmas sparkle! 
Another simple trick is to use festive clip-on decorations for placement card holders or, these can be clipped onto napkins for added interest. Then all we need is to add some festive deco pieces, Christmas foliage to fill the gaps, et voila: Christmas Dinner is served! 
Festive Décor Galore
Festive décor, Christmas tree decorations and decorative lights (yes, more lights please!) —  this is our Christmas jam! We all have a personal festive portfolio of Christmas decorations, sometimes this is where our special Christmas story lives — with wonderful keepsake pieces we have collected over the years, tree decorations we got for our kids, or even when we were kids! Perhaps there is a tree decoration you still have, where you can remember exactly when and where you purchased it, or a piece of festive décor that reminds you of a loved one. These are our festive treasures! This adds a natural and special eclectic style that money can't buy, BUT there is always room for more of these Christmas décor memories to be made.
Adding a new colour or theme to enhance what you already have is also part of the beauty of decorating your home each year. That aside, we all know that certain someone who wants to change it up and start afresh with a whole new festive vibe each year. And let's be honest, if you have the time this is also pretty damn good fun too!
Little (Ones) Christmas
Amazingly, every year we are able to recreate the Christmas magic for our little ones! The immense build-up for them is something you can't describe; from Santa's list to decorating the tree together (and waiting for them to go to bed so we can rearrange it back — just us!?), to leaving a carrot out for Rudolph and waking up at the crack of dawn to see if Santa's been… There are so many wonderful memories to be made.
Putting aside the fact I struggle to let my little one add all the decorations by themselves (😂), we feel it is really special to let our children express their festive creativity somehow. At Or & Wonder, we encourage the little ones to get involved with soft and safe tree decorations which are perfect for little hands. We also have a choice of some cool quirky glass pieces for the older children to add to the family Christmas tree.
Now without hesitation you can fully include your children with our magical selection of beautiful children's tree decorations and child-friendly festive decor, that even the adults will fall in love with. One day, these will be their keepsakes: this is where their Christmas story begins. ♥️ 
How Are You Decorating This Year?
At Or & Wonder, we love having the freedom to add interest and textures to any space or situation, so throw Christmas season into the mix and we can barely contain ourselves!! Sparkling fairy lights are a must, quirky decor is a great way to break up the traditional style, and stylish decorative pieces big or small are wonderful to keep for years to come. Let's not forget the foliage, it's simple: just dress and layer your home with it! All this wonderfulness, along with your family and loved ones, will be all you need to create the perfect festive setting. Well, this, along with a huge dose of Or & Wonder magic!
Don't forget to tag us in your festive posts on Instagram @orandwonder!